Software developer Pongku values the team spirit at Ecom
Software developer Pongku Paul has been part of the Ecom Jet development team since 2019. Three years before that he arrived in Finland to study his master's degree for cyber security in University of Turku.
– I remember when my older brother got a computer, it must've been around 1998. I wasn't allowed to touch it so naturally I was fascinated by it. Once, when my brother wasn't around, I tried to turn the machine on, but it was protected by a password. So it remained a mystery to me, Pongku laughs.
Fascinating computers
Computers fascinated Pongku to the extent that after college he applied to study computer science in a university in his native Bangladesh. After completing his bachelor's and working for four years he started looking into getting some international experience. Pongku's teacher from the university had himself studied in Lappeenranta University of Technology.
– He said you should try Finland, you will enjoy it for sure.
Finland is renowned for its happiness index as well as being technologically advanced. In addition, back in 2016 Finland didn't yet charge tuition fees from students coming from outside EU. Pongku applied for and was selected also to the universities in Jyväskylä and Tampere, but Turku was his first choice. His friends, who already had international experience, told Pongku that Turku was a nice place to stay and the program he was selected for was promising.
– I didn't even apply to Helsinki, even though they have a good university there. I'm a peaceful guy, so I wanted to keep myself off from the capital and the hustle and bustle life there.
Veikko said he would like to see my CV, I sent it and that's how it started. That was very special for me.

Pongku Paul
After two years of studying Pongku started to look for work. His master's thesis was still to be finished, but all the other courses were done. A job posting by Ecom caught Pongku's attention, but it was all in Finnish.
– I translated it with Google and saw that it really fit my profile. So I decided ask if they would be interested in a person that doesn't speak Finnish yet. I called Veikko, who was Ecom's CEO at the time, and said that I have similar experience to what they're looking for and that if they could place me in their organization then I'm also interested. Veikko said he would like to see my CV, I sent it and that's how it started. That was very special for me.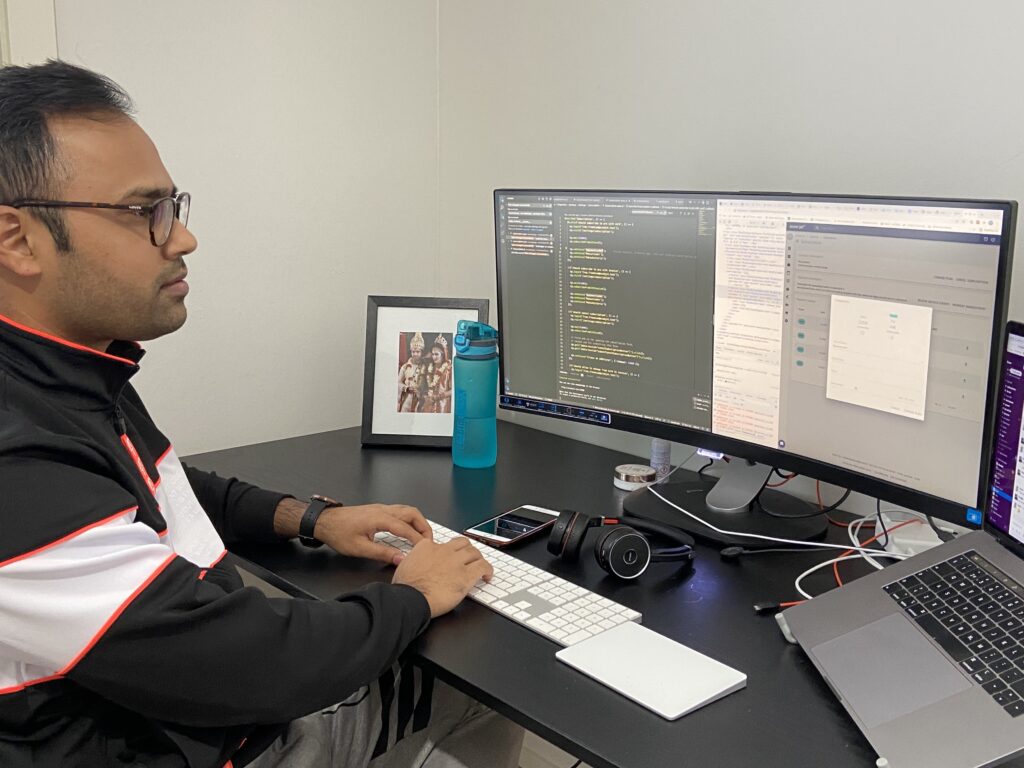 Missing having coffee together
Pongku's responsibility as a software developer is to keep the Ecom Jet environment up and running. In practise that means writing code and testing it. New features are produced in collaboration with the product designer, whose plans the software developers then implement. An essential part of the job is also to fix bugs that are encountered by users or a software, that keeps tracks of errors. Every morning starts with a meeting where the team discusses what happened yesterday and what they are going to concentrate on today.
Pongku has been with Ecom for almost three years now and enjoys his work very much. In that time the Jet development team has doubled in members. Much of that time we have also lived under covid restrictions. Pongku has worked from home since the spring of 2020. Working remotely has its upsides and downsides.
– The good part is that I save a lot of time not having to go to the office. If you have all the key tools at home and no distractions, working remotely can be very productive. But after a couple of months I realized there was something missing: the team discussions, seeing their faces.
If I sum it up in one sentence, I would say Ecom is a very good place to work and I really enjoy my work here every day.

Pongku Paul
Pongku speaks very warmly of his team mates. The Jet development team has good chemistry and there's always someone willing to help. His team mates in turn describe him as social, open and friendly. He is a diligent, competent and always cheerful colleague, who also speaks his mind and doesn't just do something if it doesn't make sense or can be done better.
– Before covid we saw each other every day, had coffee and lunch together. We also talked about things other than work, family and whatever, that's how the team bonded. Now if you need help, you ask over Slack, but you don't know if the other person is available and how long it takes them to reply. I miss working with them and I also miss the gym corner at the office, Pongku laughs.
When Pongku started to work at Ecom the Jet development team had four members. Like the software itself the group of people that works on it has grown and developed during this time. Pongku has been in the team for around half of its existence.
– I have seen the team grow together. If I sum it up in one sentence, I would say Ecom is a very good place to work and I really enjoy my work here every day.
To stay or to go back?
Pongku describes himself as a person who always likes to try something new. Sports is a big part of his life. When he was younger, he did martial arts for several years. In Finland he runs and plays cricket as well as beach volleyball in the summer, during the winter he prefers badminton. Pongku plays team sports with his friends from the Bengali community. Finland has a surprising big Bengali population: in the summer of 2020 there was a cricket tournament in Jyväskylä that was attended by around 30 11-member Bengali teams.
– I haven't had time to try Finnish winter sports yet. Hopefully next winter I get to learn skiing.
Pongku hasn't made any long term plans for the future, but he is going to stay in Finland at least for a couple of more years. When he left Bangladesh, he thought he would go back after the studies, as he couldn't imagine living so far from his family.
– As the time goes by, you create a bond with your new environment. I've started to love this country and its culture.